Water storage and transport in leaves of vesselless trees in the temperate rainforest of south-central Chile
Keywords:
accessory transfusion tissue, hydrenchyma, leaf structural traits, Podocarpus, Saxegothaea
Abstract
According to a common hypothesis, some of the epidermal structural features in the leaves of tracheid- bearing plants "offset" low specific conductivity of vesselless wood. The data concerning this issue is contradictory, which can be explained by the fact that leaf water relations depend not only on the epidermis structure, but also on the structure of other leaf tissues. In the current study we aimed to evaluate the diversity of water transport systems in the leaves of tracheid-bearing woody plants in the temperate rainforest of south-central Chile. For this purpose, we collected leaves of four Podocarpaceae and two Winteraceae species in natural habitats, examined their leaf anatomy using light and transmission electron microscopy, measured the quantitative characters and analyzed the data using principal component analysis. Leaves of the studied species differ in the mesophyll and xylem anatomy. Four species have features that accelerate water transport through the leaf tissues via the apoplast (Prumnopitys andina), accessory transfusion tissue (Podocarpus saligna) and a network of veins (Drimys species). On the contrary, the leaves of Saxegothaea conspicua and Podocarpus nubigena accumulate water in water-storage tissue (hydrenchyma), but their ecology suggest that hydrenchyma is not an adaptation to environmental conditions. The obtained data indicate the existence of different ways of water delivery to the photosynthetic tissue in the leaves of vesselless plants. In the case of insufficient water supply through the tracheids, hydrenchyma is likely to maintain hydration of the leaves.
Downloads
Download data is not yet available.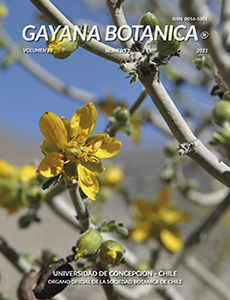 Downloads
How to Cite
(1)
Arbicheva, A.; Pautov, A.; Saldaña, A. Water Storage and Transport in Leaves of Vesselless Trees in the Temperate Rainforest of South-Central Chile. Gayana Bot. 2021, 78, 141-155.
Section
ORIGINAL ARTICLES
License
Copyright (c) 2022 Alisa Arbicheva, Anatoly Pautov, Alfredo Saldaña
This work is licensed under a Creative Commons Attribution-NonCommercial 4.0 International License.
Authors who publish with this journal agree to the following terms:
Authors retain copyright and grant the journal right of first publication.
The articles in this journal are published under Creative Commons Attribution-NonCommercial 4.0 International License that allows others to share the work with an acknowledgement of the work's authorship and initial publication in this journal.
Authors are permitted and encouraged to post their work online (e.g., in institutional repositories, on their website or ResearchGate) prior to and during the submission process, as it can lead to productive exchanges, as well as earlier and greater citation of published work (SeeThe Effect of Open Access).