Relationship between ecological breadth of vascular epiphytes and their ecophysiological responses to light availability and moisture in the Sclerophyllous Mediterranean Coastal Forest of Chile
Keywords:
Epiphytic microhabitat, leaf functional traits, ferns, environmental gradient
Abstract
Epiphytic microhabitat is exposed to microclimatic variations due to the local climate, forest structure and its dynamics. Consequently, the establishment, development and ecological breadth of epiphytes species depend on the ability to modify their physiology, morphology and phenology facing environmental restrictions. In this study the differences in ecological breadth of vascular epiphytes in relation with light availability and soil moisture are decribed in a relict stand of Mediterranean Coastal Sclerophyllous Forest located in Península de Hualpén, Biobío Region (36º47'S y 73º10'S). We quantified the field distribution of each epiphyte species along these two gradients. We measured in situ variation in leaf relative water content (RWC), leaf chlorophyll content (Chl), and specific leaf mass (LMA). Seven vascular epiphytes species (two Angiosperms and five Pteridophytes) were found and some of them showed clear differences in their ecological breadth in both environmental gradients. Sarmienta scandens (Gesneriaceae), Asplenium trilobum (Aspleniaceae) and Pleopeltis macrocarpa (Polypodiaceae) were the most abundant species and they also showed higher ecological breadth both in the light and soil moisture gradients. For these species the change in Chl could be an important mechanism for acclimation under variation of the moisture conditions. Finally, although no relation between the ecological breadth in the light gradient and the leaf traits was found, our results suggest that the species composition is related to the light availability in the host trees.
Downloads
Download data is not yet available.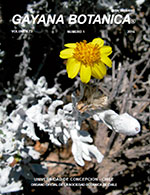 Downloads
How to Cite
(1)
Fernández, R.; Moreno-Chacón, M.; Canessa, R.; Morales, D.; Viveros, N.; Saldaña, A. Relationship Between Ecological Breadth of Vascular Epiphytes and Their Ecophysiological Responses to Light Availability and Moisture in the Sclerophyllous Mediterranean Coastal Forest of Chile. Gayana Bot. 2016, 73, 68-76.
Section
ORIGINAL ARTICLES
License
Authors who publish with this journal agree to the following terms:
Authors retain copyright and grant the journal right of first publication.
The articles in this journal are published under Creative Commons Attribution-NonCommercial 4.0 International License that allows others to share the work with an acknowledgement of the work's authorship and initial publication in this journal.
Authors are permitted and encouraged to post their work online (e.g., in institutional repositories, on their website or ResearchGate) prior to and during the submission process, as it can lead to productive exchanges, as well as earlier and greater citation of published work (SeeThe Effect of Open Access).