Vascular flora of a remnant of coastal Mediterranean Sclerophyll forest: Hualpén Terrestrial Biology Station, Biobío Region, Chile
Keywords:
complementary area, Gomortega keule, Pitavia punctata, Hualpén Peninsula
Abstract
The remnants of coastal Mediterranean sclerophyll forests in Chile have a low representativeness in the National System of Protected Wild Areas despite their high endemism and species richness. In the Biobío Region, the Hualpén Terrestrial Biology Station (EBT) protects a remnant of this type of forest, for which there are no revisions describing its flora, which makes it difficult to formulate and develop strategies for its protection and conservation. This work aims are: a) to describe the taxonomic composition of vascular plants of the ETB and b) to provide information on their geographical origin, habit and conservation status. The resulting floristic list includes species identified through systematic sampling in the study area for one year, as well as EBT species stored in the collection of the Universidad de Concepción Herbarium. We identified 292 species of vascular plants, where 71 species are endemic, 124 are native, 99 are alien species. From the floristic point of view the Asteraceae family was the most diverse with 36 species, followed by Poaceae with 32 species and Fabaceae with 18 species. Herbs were the most frequent growth habit (77.2%), followed by shrub (13.9%), tree (7.5%) and sub-shrub (1.4%). Nineteen endemic and native species have been classified in some category of conservation in continental Chile, standing out Gomortega keule and Pitavia punctata both classified as endangered species, and the fern Asplenium trilobum classified as a least concern in Chile and vulnerable in the Biobío Region. Despite of the reduced protected area in the EBT (70 ha), the site has a high species richness of native species when compared with data obtained from other studies of flora in sites of central Chile.
Downloads
Download data is not yet available.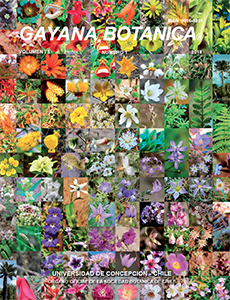 Downloads
How to Cite
(1)
Moreno-Chacón, M.; Mardones, D.; Viveros, N.; Madriaza, K.; Carrasco-Urra, F.; Marticorena, A.; Baeza, C.; Rodríguez, R.; Saldaña, A. Vascular Flora of a Remnant of Coastal Mediterranean Sclerophyll Forest: Hualpén Terrestrial Biology Station, Biobío Region, Chile. Gayana Bot. 2018, 75, 466-481.
Section
ORIGINAL ARTICLES
License
Authors who publish with this journal agree to the following terms:
Authors retain copyright and grant the journal right of first publication.
The articles in this journal are published under Creative Commons Attribution-NonCommercial 4.0 International License that allows others to share the work with an acknowledgement of the work's authorship and initial publication in this journal.
Authors are permitted and encouraged to post their work online (e.g., in institutional repositories, on their website or ResearchGate) prior to and during the submission process, as it can lead to productive exchanges, as well as earlier and greater citation of published work (SeeThe Effect of Open Access).