Browningia candelaris (Meyen) Britton & Rose, a self-incompatible cactus pollinated by hummingbirds and insects in the Atacama Desert
Keywords:
cactus candelabro, chiropterophily, Platalina genovensium, Rhodopis vesper, Apidae, Syrphidae
Abstract
Browningia candelaris is a cactus from the Atacama Desert with bat pollination syndrome (i.e., chiropterophilia). In Peru, the bat Platalina genovensium appears to be its main pollinator. However, in Chile, this bat only inhabits the Azapa Valley, being the pollinators and the reproductive system of B. candelaris unknown in the south of its distribution (e.g., Tarapacá). Through manual pollination trials, in 2017 and 2019, we evaluated the ability of B. candelaris to produce fruits and seeds with its own pollen, but without pollinators (i.e., autogamy), with its own pollen and pollinators (i.e., geitonogamy), and with exogenous pollen and pollinators (i.e., xenogamy). In addition, we evaluated natural pollination and the identity of pollinators. The autogamy flowers did not bear fruits, indicating that B. candelaris is unable to produce seeds in the absence of pollinators. Through geitonogamy there was only 20% fruiting, although only in one year, indicating a low capacity for self-pollination mediated by pollinators. About 75% of the flowers fructified by xenogamy indicating that cross pollination is the main reproductive mechanism. However, the xenogamy fruiting was 10% higher than the natural one, and the number of seeds per fruit 34.3% higher, which indicates a low effectiveness of the pollinators. The potential pollinators are the northern hummingbird (Rhodopis vesper vesper) and seven species of insects (3 Diptera, 3 Hymenoptera, 1 Lepidopteran). Additional studies on the pollination and reproduction of threatened desert plants seem to be mandatory to propose appropriate conservation strategies.
Downloads
Download data is not yet available.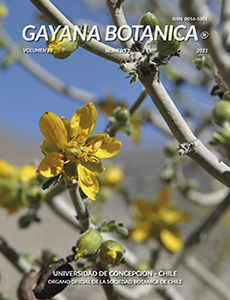 Downloads
How to Cite
(1)
Humaña, A. M.; Valdivia, C. E.; Jiménez, A.; Barahona-Segovia, R. M. Browningia Candelaris (Meyen) Britton &Amp; Rose, a Self-Incompatible Cactus Pollinated by Hummingbirds and Insects in the Atacama Desert. Gayana Bot. 2021, 78, 131-140.
Section
ORIGINAL ARTICLES
License
Copyright (c) 2021 Ana María Humaña, Carlos E. Valdivia, Alberto Jiménez, Rodrigo M. Barahona-Segovia
This work is licensed under a Creative Commons Attribution-NonCommercial 4.0 International License.
Authors who publish with this journal agree to the following terms:
Authors retain copyright and grant the journal right of first publication.
The articles in this journal are published under Creative Commons Attribution-NonCommercial 4.0 International License that allows others to share the work with an acknowledgement of the work's authorship and initial publication in this journal.
Authors are permitted and encouraged to post their work online (e.g., in institutional repositories, on their website or ResearchGate) prior to and during the submission process, as it can lead to productive exchanges, as well as earlier and greater citation of published work (SeeThe Effect of Open Access).