Nolana balsamiflua (Gaudich.) Mesa (Solanaceae), a vulnerable shrub of the Atacama Desert dependent on pollinators for seed set
Abstract
Pollinator-dependency for reproduction is of great importance for plants. We evaluated the breeding system of Nolana balsamiflua, a threatened endemic shrub of the Atacama Desert, performing four pollination trials. No flower produced seeds by agamospermy, autogamy and geitonogamy. However, xenogamy accounted for 51.4% of fruiting, indicating its full dependency on exogenous pollen and pollinators for reproduction.
Downloads
Download data is not yet available.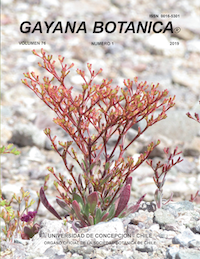 Downloads
How to Cite
(1)
Humaña, A. M.; Jimenez, A.; Valdivia, C. E. Nolana Balsamiflua (Gaudich.) Mesa (Solanaceae), a Vulnerable Shrub of the Atacama Desert Dependent on Pollinators for Seed Set. Gayana Bot. 2019, 76, 123-125.
Section
SHORT COMMUNICATIONS
License
Authors who publish with this journal agree to the following terms:
Authors retain copyright and grant the journal right of first publication.
The articles in this journal are published under Creative Commons Attribution-NonCommercial 4.0 International License that allows others to share the work with an acknowledgement of the work's authorship and initial publication in this journal.
Authors are permitted and encouraged to post their work online (e.g., in institutional repositories, on their website or ResearchGate) prior to and during the submission process, as it can lead to productive exchanges, as well as earlier and greater citation of published work (SeeThe Effect of Open Access).