Browsing evidence of the native and near-threatened Pudu puda deer in restoration plantings on Chiloé Island, Chile
Keywords:
Chile, forest management, forest restoration, herbivory, southern pudu
Abstract
Few studies have focused on the actual extent and spatial patterns of browsing in relation to forest restoration, especially when browsing is done by deer with conservation status. Here, we present data from three forest restoration experiments located in priority forests for restoration in Chiloé Island in Chile. The aim of this study is to report evidence of browsing of the southern pudu (Pudu puda), a native and Near Threatened deer species. We visually assessed browsing for all individual seedlings and calculated the average browsing extent per plot and treatment. Since pudus as well as other deer species are known to preferably feed in open spaces, we hypothesized that Pilgerodendron uviferum planted seedlings will present higher browsing rates in places with lower shrub cover (bogs) and canopy cover (upland areas) (H1). In the case of degraded North-Patagonian forests we hypothesized that Nothofagus nitida planted seedlings will present higher browsing rates in places with higher %PPFD (Photosynthetic Photon Flux Density) and/or lower residual basal area (H2). Our results indicate that browsing ranged from 9.3% up to 84.0% depending on tree species and site condition. In burned forests, browsing was significantly higher (p < 0.01) when shrubs were removed (84.0% ± 9.9) than by retaining them (68.9% ± 11.6). In degraded old-growth forests, we found significantly higher browsing in places with higher degradation (p < 0.05). Furthermore, %PPFD was significantly correlated with browsing (rho: 0.535; p < 0.01). Based on our results, forest restoration efforts in Chiloé Island will face a great challenge in balancing the protection of Near Threatened wildlife and the restoration of tree species with conservation problems, especially in open/disturbed areas, where higher browsing was found.
Downloads
Download data is not yet available.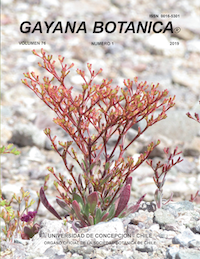 Downloads
How to Cite
(1)
Burger, A.; Bannister, J. R.; Galindo, N.; Vargas-Gaete, R.; Vidal, O. J.; Schlegel, B. Browsing Evidence of the Native and Near-Threatened Pudu Puda Deer in Restoration Plantings on Chiloé Island, Chile. Gayana Bot. 2019, 76, 24-33.
Section
ORIGINAL ARTICLES
License
Authors who publish with this journal agree to the following terms:
Authors retain copyright and grant the journal right of first publication.
The articles in this journal are published under Creative Commons Attribution-NonCommercial 4.0 International License that allows others to share the work with an acknowledgement of the work's authorship and initial publication in this journal.
Authors are permitted and encouraged to post their work online (e.g., in institutional repositories, on their website or ResearchGate) prior to and during the submission process, as it can lead to productive exchanges, as well as earlier and greater citation of published work (SeeThe Effect of Open Access).