Structure and regeneration of Prumnopitys andina forests in the Andes of southern Chile
Keywords:
fleshy cone, lleuque, Lonquimay, Podocarpaceae
Abstract
Prumnopitys andina is a conifer tree species with a narrow distribution in Chile and Argentina. Despite its ecological importance, knowledge about the structure and dynamics of the forests where P. andina grows is limited. We aim to describe the structure and regeneration of forest with high presence of P. andina. Forests near Lonquimay (38°1' S, 71.3 W - 38°3'S, 71°3' W) were sampled by measuring trees, regeneration and vascular flora through 24 plots. We found that P. andina predominantly occurs in the upper canopy (15-18 m), usually in company of Nothofagus obliqua and/or Austrocedrus chilensis, in addition to Maytenus boaria and Lomatia hirsuta that occur in the mid-canopy (4-8 m). Based on forest structure, we identified three types of P. andina forests: open, secondary-mature, and pure. Pure P. andina forests reached basal areas among the largest reported for for temperate forests southern South America (230 m2/ha). P. andina regeneration ranged from 1,550 individuals/ha in open forests to 25,000 individuals/ha in pure forests. P. andina exhibited a continuous regeneration strategy, which in the absence of human disturbances, such as grazing by cattle or selective logging, suggests that its populations are self-sustaining.
Downloads
Download data is not yet available.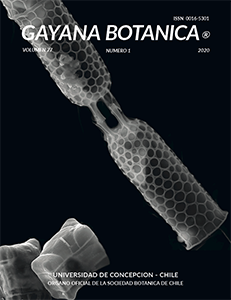 Downloads
How to Cite
(1)
Vargas-Gaete, R.; Salas-Eljatib, C.; Penneckamp, D.; Neira, Z.; Diez, M. C.; Vargas-Picón, R. Structure and Regeneration of Prumnopitys Andina Forests in the Andes of Southern Chile. Gayana Bot. 2020, 77, 48-58.
Section
ORIGINAL ARTICLES
License
Copyright (c) 2020 Rodrigo Vargas-Gaete, Christian Salas-Eljatib, Diego Penneckamp, Zoia Neira, M. Cristina Diez, Ricardo Vargas-Picón
This work is licensed under a Creative Commons Attribution-NonCommercial 4.0 International License.
Authors who publish with this journal agree to the following terms:
Authors retain copyright and grant the journal right of first publication.
The articles in this journal are published under Creative Commons Attribution-NonCommercial 4.0 International License that allows others to share the work with an acknowledgement of the work's authorship and initial publication in this journal.
Authors are permitted and encouraged to post their work online (e.g., in institutional repositories, on their website or ResearchGate) prior to and during the submission process, as it can lead to productive exchanges, as well as earlier and greater citation of published work (SeeThe Effect of Open Access).