Ecological characterization of an ombrogenic peatland in Magallanes: towards a proposal of bioindicators for environmental monitoring
Keywords:
pristine peats, biodiversity indicators, Sphagnum magellanicum, Brunswick peninsula, von Post decomposition
Abstract
Ombrogenic peat bogs are ecologically extreme ecosystems, where the restrictive conditions such as anoxia, high acidity and low availability of nutrients allow a gradual accumulation of the organic substrate known as peat. This substrate is of great commercial interest because it is exploited for horticultural purposes and energy biomass. The exploitation of peat, however, involves the removal of vegetation, which has an important effect on secondary succession and ecosystem resilience. The flora and vegetation of peat bogs in the Brunswick Peninsula (Magallanes), in an area susceptible to mining exploitation, was studied to characterize ecological indicators. Phytosociological surveys were carried out to determine attributes of composition and structure at the community and landscape scale. This information was collated with satellite images and analyzed by univariate procedures (e.g. KW, Pearson) and multivariate (e.g. NMDS, ISA, ANOSIM). The following types of ombrogenic peat bogs were differentiated: graminoid, chamaephytic, Sphagnum and pulvinated peat bogs, which were associated with a terrestrialization to paludification gradient, and decomposition. The highest average richness was recorded in the pulvinated peat bogs. The chamaephytic and graminoid bogs has the largest areas, while the pulvinated were distributed in a few hectares. Diagnostic species (e.g. Caltha appendiculata, Donatia fascicularis, Drosera uniflora, Myrteola nummularia) were associated with one or another type of vegetation, showing ecological preferences. No exotic species were recorded. This information can help define critical levels of resilience and propose management and restoration strategies in post-disturbance abandoned peatlands.
Downloads
Download data is not yet available.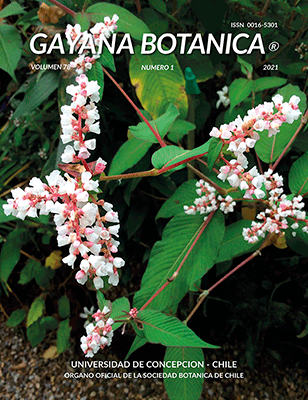 Downloads
How to Cite
(1)
Monsalve, E.; Muñoz-Arriagada, R.; Bahamonde, N.; Vidal, O. J. Ecological Characterization of an Ombrogenic Peatland in Magallanes: Towards a Proposal of Bioindicators for Environmental Monitoring. Gayana Bot. 2021, 78, 38-55.
Section
ORIGINAL ARTICLES
License
Copyright (c) 2021 Erika Monsalve, René Muñoz-Arriagada, Nelson Bahamonde, Osvaldo J. Vidal
This work is licensed under a Creative Commons Attribution-NonCommercial 4.0 International License.
Authors who publish with this journal agree to the following terms:
Authors retain copyright and grant the journal right of first publication.
The articles in this journal are published under Creative Commons Attribution-NonCommercial 4.0 International License that allows others to share the work with an acknowledgement of the work's authorship and initial publication in this journal.
Authors are permitted and encouraged to post their work online (e.g., in institutional repositories, on their website or ResearchGate) prior to and during the submission process, as it can lead to productive exchanges, as well as earlier and greater citation of published work (SeeThe Effect of Open Access).