Changes in the composition and diversity of urban trees in Linares, Nuevo León
Keywords:
introduced species, native species, northeastern Mexico, urban trees
Abstract
Urban trees offer important environmental services in cities, which is why their establishment and study has increased in recent years. In this work, the change in the composition and diversity of urban trees was evaluated in the small city of Linares, Nuevo León in a period of 26 years (1995 2021). For this, crown coverage was measured, and the Shannon diversity and Morisita-Horn similarity indices were obtained. As results, 62 species (22 native and 40 introduced) belonging to 56 genera and 29 tree families were recorded throughout the evaluated period. The best represented families were Fabaceae with 9 species, Fagaceae, Oleaceae and Rutaceae with 4 and Apocynaceae and Moraceae with 3. An increase in the density of introduced trees was observed from 1995 to 1999, while by 2021 those of native origin increased significantly as was the case with Quercus fusiformis and Fraxinus udhei. The highest species similarity was recorded in the 1995-1999 period (69,2 %) with shared species such as the exotic Ficus benjamina and Ligustrum japonicum. The current arboreal flora in the public areas of Linares is probably the result of a greater knowledge of the ecology of both native and introduced species by society, as well as the academic and governmental institutions of Linares, Nuevo León.
Downloads
Download data is not yet available.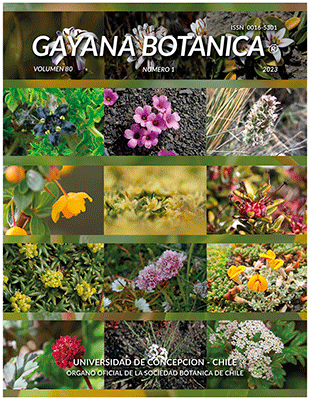 Downloads
How to Cite
(1)
Alanís-Rodríguez, E.; Mora-Olivo, A.; Molina-Guerra, V. M.; Patiño-Flores, A. M.; Sigala-Rodríguez, J. Ángel; Zamudio-Castillo, E.; Rubio-Camacho, E. Changes in the Composition and Diversity of Urban Trees in Linares, Nuevo León. Gayana Bot. 2023, 80, 64-74.
Section
ORIGINAL ARTICLES
License
Copyright (c) 2023 Eduardo Alanís-Rodríguez, Arturo Mora-Olivo, Víctor Manuel Molina-Guerra, Ana María Patiño-Flores, José Ángel Sigala-Rodríguez, Eréndira Zamudio-Castillo, Ernesto Rubio-Camacho
This work is licensed under a Creative Commons Attribution-NonCommercial 4.0 International License.
Authors who publish with this journal agree to the following terms:
Authors retain copyright and grant the journal right of first publication.
The articles in this journal are published under Creative Commons Attribution-NonCommercial 4.0 International License that allows others to share the work with an acknowledgement of the work's authorship and initial publication in this journal.
Authors are permitted and encouraged to post their work online (e.g., in institutional repositories, on their website or ResearchGate) prior to and during the submission process, as it can lead to productive exchanges, as well as earlier and greater citation of published work (SeeThe Effect of Open Access).