Characterization and floristic structure of a plant functional group of tamaulipan thornscrub
Keywords:
succulents, density, indexes of diversity
Abstract
The structure, diversity and density of vegetation are important for the characterization of ecosystems. In the present study was characterized the structure and diversity of succulent species, trees and shrubs in area of tamaulipan thornscrub of the northeast of Mexico. Was established 70 sampling sites 10 x 10 m (100 m2), where was perform a census of all trees and shrubs (d 0.10 m > 5cm), including succulent plants. Were made to each individual measurements of diameter of canopy. For each specie was obtained the importance value index (IVI) calculated starting of three variables, abundance according with the number of trees per hectare (n ha-1) dominance across of the coverage of the canopy area, and frequency with base in its presence in the sites of sampling. Also was calculated the Shannon index (H´) and Margalef index ( DMg ). In total were registered 67 species, 55 genres and 25 families. This plant group present a density of 3,313 ind ha-1 and the coverage of the canopy area of 16,671 m2/ha-1. Acacia rigidula was the one that obtained the major values of importance with 8.04% of IVIrel . The curve of range/abundance of species adjusted to a log-normal function, characteristic of the associations of ripe plant. For the Margalef Index was obtained a value of DMg =8.14, this indicates a high richness of species. With this are provided quantitative elements of the arboreal vegetation, shrubby and succulent of a vegetable plant functional group of the tamaulipan thornscrub, indicating that this type of vegetation presents a high diversity and richness of species compared to other ripe plant associations of shrub.
Downloads
Download data is not yet available.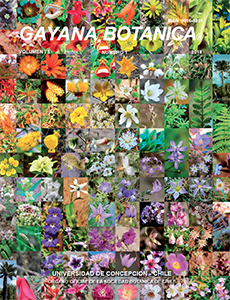 Downloads
How to Cite
(1)
Graciano-Ávila, G.; Alanís-Rodríguez, E.; Aguirre-Calderón, Óscar A.; González-Tagle, M. A.; Rubio-Camacho, E. A.; Mata Balderas, J. M. Characterization and Floristic Structure of a Plant Functional Group of Tamaulipan Thornscrub. Gayana Bot. 2018, 75, 512-523.
Section
ORIGINAL ARTICLES
License
Authors who publish with this journal agree to the following terms:
Authors retain copyright and grant the journal right of first publication.
The articles in this journal are published under Creative Commons Attribution-NonCommercial 4.0 International License that allows others to share the work with an acknowledgement of the work's authorship and initial publication in this journal.
Authors are permitted and encouraged to post their work online (e.g., in institutional repositories, on their website or ResearchGate) prior to and during the submission process, as it can lead to productive exchanges, as well as earlier and greater citation of published work (SeeThe Effect of Open Access).