Peaty wetlands of the Nahuelbuta National Park (Araucanía Region), compared with others in a latitudinal Chilean gradient
Keywords:
flora, latitudinal gradient, multivariate statistic, peat bogs, vegetation
Abstract
Peat bogs are wetlands characterized as swamps of very extreme cold and wet places. In Chile there are several types of them: sphagnum bogs (minerotrophic), pulvinated bogs (ombrotrophic), grassy bogs, shrubby bogs and wooded bogs. This work was carried out in the peat bogs of the northern limit of them areal, in Nahuelbuta National Park, located in the Cordillera de la Costa approximately 1200 to 2300 m above sea level between the Regions of Bío-Bío and Araucanía, Chile. The flora was studied with traditional methods and the vegetation with phytosociological methodology and the results were confirmed with multivariate classification and ordination statistics. The vascular, moss and lichenic flora showed little floristic richness, only 38 species. All the flora species are native and six of  them are endemic.  This flora gives rise to four new peaty plant associations for Chile: two pulvinate-bogs (Myrteolo-Donatietum fasciculariae and Gaultherio-Oreoboletum obtusangulae), one sphagnum-bogs (Carici- Sphagnetum magellanicii) and one grassy-bogs (Bacharido-Festucetum scabriusculae). When comparing the peat bogs studied with those further south, the donatia pulvinate-bogs appear to be more homogeneous than the sphagnum peat bogs, in fact, the former share five species and the latter, only two. In general, a greater variation of the pulvinated peat bogs was found in the Aysén Region and of the sphagnum bogs in the Chiloé Region, the latter coming out of the conglomerate formed by the other four places. It was confirmed that in both latitudinal extremes the peat bogs are poorer in species and the greatest richness occurs in the intermediate regions.
Downloads
Download data is not yet available.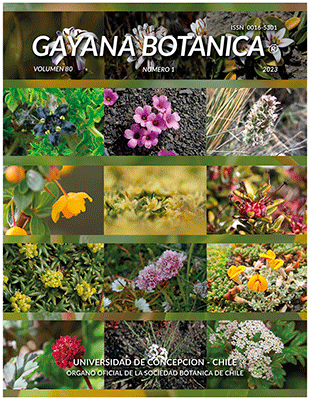 Downloads
How to Cite
(1)
Ramírez, C.; Valenzuela, J.; Vidal, O.; Fariña, J. M.; San Martín, C.; Marticorena, A.; Valdivia, O. Peaty Wetlands of the Nahuelbuta National Park (Araucanía Region), Compared With Others in a Latitudinal Chilean Gradient. Gayana Bot. 2023, 80, 16-37.
Section
ORIGINAL ARTICLES
License
Copyright (c) 2023 Carlos Ramírez, Jorge Valenzuela, Osvaldo Vidal, José Miguel Fariña, Cristina San Martín, Alicia Marticorena, Oliver Valdivia
This work is licensed under a Creative Commons Attribution-NonCommercial 4.0 International License.
Authors who publish with this journal agree to the following terms:
Authors retain copyright and grant the journal right of first publication.
The articles in this journal are published under Creative Commons Attribution-NonCommercial 4.0 International License that allows others to share the work with an acknowledgement of the work's authorship and initial publication in this journal.
Authors are permitted and encouraged to post their work online (e.g., in institutional repositories, on their website or ResearchGate) prior to and during the submission process, as it can lead to productive exchanges, as well as earlier and greater citation of published work (SeeThe Effect of Open Access).