Biogeographical history of bryophytes in Chile
Keywords:
Arid Diagonal, glaciations, macro-fossils/mosses, relicts, Pangea/Gondwana
Abstract
Some biogeographical features of bryophytes associated with subtropical-temperate ecosystems in Chile are examined, including diversity, concentration of species richness, endemism, biogeographical composition and disjunctions. The historical-biogeographical interpretation of these characteristics considers the major evolutionary changes of the group in three different temporal scenarios, according to geological, paleobotanical and molecular evidences. First, simple- and complex-thalloids liverworts represented in Chile are examined, belonging to the Classes Haplomitriopsida and Marchantiopsida- Marchantiidae, archaic lineages linked to the pre-Cenozoic colonization of the Pangea mega-continent. Examples of simple-thalloids liverworts of Class Jungermanniopsida-Pelliidae, hornworts of the Class Anthocerotopsida and mosses of the Classes Bryopsida and Polytrichopsida illustrate the paleo-austral distribution patterns of bryophytes from the temperate region of Chile, related to the Gondwana breakup and expansion of Angiosperms during the Cretaceous/Paleogene. A second scenario, considers the final uplift of the Andes and the development of the Arid Diagonal of South America during the Neogene, processes that have played a major role in the biogeographical structure of the Chilean and South American floras. In this context, leafy liverworts associated with the relict forests of the Chilean semi- arid coast stand out, particularly epiphyllous liverworts of the two most diverse families of the Class Jungermanniopsida-Jungermanniidae, Lejeuneaceae and Plagiochilaceae, adapted to microclimates favored by coastal fogs. The last scenario discusses the significant role of the Pleistocene glacial cycles in the expansion of the sub-Antarctic temperate-cold element throughout central-southern Chile, and its effects on the concentration of bryophyte richness associated with Chile's temperate-rain ecosystems.
Downloads
Download data is not yet available.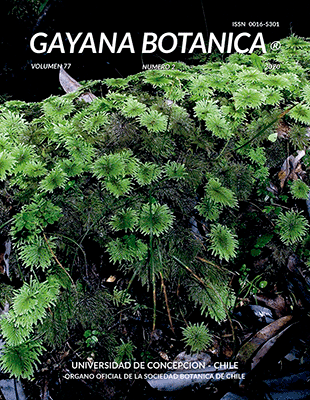 Downloads
How to Cite
(1)
Villagrán Moraga, C. Biogeographical History of Bryophytes in Chile. Gayana Bot. 2020, 77, 73-114.
License
Copyright (c) 2021 Carolina Villagrán Moraga
This work is licensed under a Creative Commons Attribution-NonCommercial 4.0 International License.
Authors who publish with this journal agree to the following terms:
Authors retain copyright and grant the journal right of first publication.
The articles in this journal are published under Creative Commons Attribution-NonCommercial 4.0 International License that allows others to share the work with an acknowledgement of the work's authorship and initial publication in this journal.
Authors are permitted and encouraged to post their work online (e.g., in institutional repositories, on their website or ResearchGate) prior to and during the submission process, as it can lead to productive exchanges, as well as earlier and greater citation of published work (SeeThe Effect of Open Access).