Success and failures in the inoculation of five introduced trees in Chile with Tuber magnatum Pico: First advances for the domestication of the white truffle in South America
Keywords:
Corylus avellana, ITS-rDNA, mycorrhizal synthesis, Quercus cerris, Quercus robur, white truffles
Abstract
Truffles are highly demanded edible fungi. They belong to the genus Tuber and have very high economic value, with Tuber magnatum being one of the most expensive and gastronomically used. This study evaluates the potential of five introduce tree species as mycorrhizal hosts for T. magnatum in Chile. Seeds from Quercus cerris, Q. robur and Corylus avellana were harvested from adult trees. Cuttings from Populus nigra and Salix caprea were harvested in the field and asexually propagated under greenhouse conditions. After two months, they were transplanted to 260 cc pots containing sterilized composted pine bark. A spore suspension (106 spores/plant) of T. magnatum was injected directly into plant roots. Three months after inoculation we observed spore germination and the presence of mycelium around the roots in some seedlings. After seven months, we observed mycorrhizae from T. magnatum only in Q. cerris, Q. robur and C. avellana, characterized by their epidermoid mantle and awl-shaped, bristle-like cystidia. The identification the mycorrhizal structures was confirmed by sequencing of the nuclear ITS- rDNA region. This study provide the first advances for the domestication of this highly valuable truffle in Chile and South America and the successful mycorrhized plants could be used in further field assays. Some Quercus, Populus and Salix species have been used as ornamental plants and are naturalized in Chile for over 100 years. Additionally, hazelnut (Corylus avellana) is currently grown in the country under intensive silviculture. These tree species could act as a non-intentional host for truffles, dispersed from production sites.
Downloads
Download data is not yet available.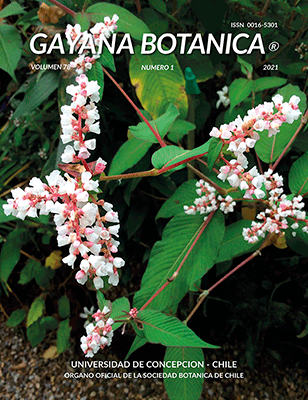 Downloads
How to Cite
(1)
Pereira, G.; Palfner, G.; Suz, L. M.; Sandoval, P.; Ramírez, R.; Chávez, D.; Atala, C. Success and Failures in the Inoculation of Five Introduced Trees in Chile With Tuber Magnatum Pico: First Advances for the Domestication of the White Truffle in South America. Gayana Bot. 2021, 78, 19-28.
Section
ORIGINAL ARTICLES
License
Copyright (c) 2021 Guillermo Pereira, Götz Palfner, Laura M. Suz, Patricio Sandoval, Ricardo Ramírez, Daniel Chávez, Cristian Atala
This work is licensed under a Creative Commons Attribution-NonCommercial 4.0 International License.
Authors who publish with this journal agree to the following terms:
Authors retain copyright and grant the journal right of first publication.
The articles in this journal are published under Creative Commons Attribution-NonCommercial 4.0 International License that allows others to share the work with an acknowledgement of the work's authorship and initial publication in this journal.
Authors are permitted and encouraged to post their work online (e.g., in institutional repositories, on their website or ResearchGate) prior to and during the submission process, as it can lead to productive exchanges, as well as earlier and greater citation of published work (SeeThe Effect of Open Access).