Chorizanthe R. Br. ex Benth. (Polygonaceae) in Chile
Keywords:
Chorizanthe, Chorizanthe limariensis, Polygonaceae, flora of Chile
Abstract
Chorizanthe was described on collections from Chile by G. Bentham in 1836 and included C. glabrescens Benth., C. macraei Benth., C. paniculata Benth., C. peduncularis Benth., C. vaginata Benth. and C. virgata Benth. In 1851, J. Rémy recognized Bentham's species and added C. frankenioides J. Rémy and C. commissuralis J. Rémy. In a series of publications, (1864, 1873, 1895) R. A. Philippi described some sixteen species, of which, the following are accepted: C. dasyantha Phil, C. flavescens Phil., C. kingii Phil., C. umbellata Phil., and C. viridis Phil. In 2004, J. Reveal carried out a revision and recognized fourteen species as valid for Chile; however, it did not review the genus or provide keys of determination. In 2018, S. Teillier and J. Macaya described five species in the framework of a review for the "New Flora of Chile" project: C. gajardoi Teillier & Macaya, C. mieresii Teillier & Macaya, C. navasiae Teillier & Macaya, C. novoana Teillier & Macaya and C. rosasii Teillier & Macaya. In this paper, we describe a new species, C. limariensis, and we provide a review of the Chilean species where we propose a hypothesis about the taxonomy of the genus. For this treatment, classical methods have been used, comparing types, herbarium material and specimens in the field. These results result in a genus that comprises 19 species; 18 species of subshrubs and perennial herbs (subgenus Chorizanthe) and an annual herb (C. commissuralis in subgenus Amphietes). We propose also lectotypes for C. fasciculata Phil., C. kingii Phil., C. parviflora Phil., C. rosea Phil. and C. viridis Phil. Finally, a key to species, morphological descriptions, and photographs are presented.
Downloads
Download data is not yet available.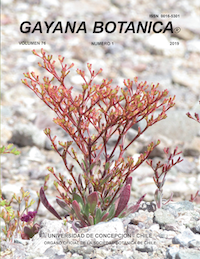 Downloads
How to Cite
(1)
Teillier, S.; Macaya-Berti, J.; Novoa, P. Chorizanthe R. Br. Ex Benth. (Polygonaceae) in Chile. Gayana Bot. 2019, 76, 34-60.
Section
ORIGINAL ARTICLES
License
Authors who publish with this journal agree to the following terms:
Authors retain copyright and grant the journal right of first publication.
The articles in this journal are published under Creative Commons Attribution-NonCommercial 4.0 International License that allows others to share the work with an acknowledgement of the work's authorship and initial publication in this journal.
Authors are permitted and encouraged to post their work online (e.g., in institutional repositories, on their website or ResearchGate) prior to and during the submission process, as it can lead to productive exchanges, as well as earlier and greater citation of published work (SeeThe Effect of Open Access).