Catalogue of the culture collection of symbionts and pathogenic fungal species of insects and other arthropods from Argentina
Keywords:
Argentina, collection, entomopathogenic fungi, isolates, preservation
Abstract
This manuscript seeks to disclose the updated data and relevant information about the entomopathogenic fungi strains preserved at the Center for Parasitological and Vector Studies (CEPAVE) of the National Scientific and Technical Research Council and National University of La Plata (CONICET-UNLP), Argentina. The data provided here is the result of surveys of native isolates from the different phytogeographic regions of Argentina, specified as follows: acronym, substrate, host insect species, collection date, geographic coordinate references, and culture medium in which it was isolated; and the aim is to provide basic information about the organisms preserved in the afore mentioned microorganisms collection. This collection was developed for the purposes of research, teaching and technological associations with companies. It started in 1988, and it is registered in the Latin American Federation of Culture Collections (FELACC) as Institutional Partner: No. SI-06, and in the World Federation for Culture Collections (WFCC) (http://www.wfcc.info/). In accordance with the WFCC guidelines, this collection is incorporated as a partner to the World Data Centre for Microorganisms (WDCM, 973 CEP). The preservation methods used are sterile distilled water, paper, mineral oil, silica gel, freezer at -20 and -70 °C and lyophilization, quality and viability controls are carried out. So far, 40 % of the species have been identified by molecular techniques, and the study of the remaining isolated species is under development. The collection consists of more than 684 strains which belong mostly to the Beauveria, Metarhizium, Isaria, Lecanicillium genera, as well as some species of Entomophthorales.
Downloads
Download data is not yet available.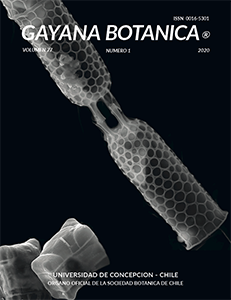 Downloads
How to Cite
(1)
López Lastra, C. C.; Manfrino, R. G.; Rodríguez, M. B.; Gutierrez, A. C.; Ordoqui, E.; Navone, G. T. Catalogue of the Culture Collection of Symbionts and Pathogenic Fungal Species of Insects and Other Arthropods from Argentina. Gayana Bot. 2020, 77, 23-37.
Section
ORIGINAL ARTICLES
License
Authors who publish with this journal agree to the following terms:
Authors retain copyright and grant the journal right of first publication.
The articles in this journal are published under Creative Commons Attribution-NonCommercial 4.0 International License that allows others to share the work with an acknowledgement of the work's authorship and initial publication in this journal.
Authors are permitted and encouraged to post their work online (e.g., in institutional repositories, on their website or ResearchGate) prior to and during the submission process, as it can lead to productive exchanges, as well as earlier and greater citation of published work (SeeThe Effect of Open Access).