Invasions in mountains: How much have we advanced in the last 10 years and what are the challenges for the ecosystems of the Andes?
Keywords:
anthropization, climate change, disturbance, mountain ecosystems, non-native species
Abstract
During the last decade, there has been a great interest in understanding the process of invasion of exotic plants in the ecosystems of the Andes mountain range, because they have a high diversity endemic species and are an important source of ecosystem services. Therefore, this review aims to assess the current state of knowledge about the invasion of plants in the mountain ecosystems of the Andes mountain range. Through a systematic quantitative review that I integrate publications made in the periods 1997-2017. The aim was to identify scientific productivity during the last 10 years, the main research trends and understand how global change processes will affect the invasion process. We determined that publications per year increase linearly (R2 = 0.68), being more noticeable during the last 10 years (2008-2017). More than 50% of the publications were concentrated in studies carried out in Andean ecosystems in Chile and Argentina. The most developed themes were new reports of exotic species (18.48%) and the study of anthropic disturbances as agents promoting invasion (16.38%). Based on the research patterns, it was exemplified how the anthropic factors model the patterns of distribution of exotic species in the ecosystems of the Andes and how the patterns of global change will have implications for the redistribution patterns of the exotic species. Finally, we conclude that it is necessary to strengthen experimental studies on climate change, impact assessment and the generation of control and management protocols for exotic species.
Downloads
Download data is not yet available.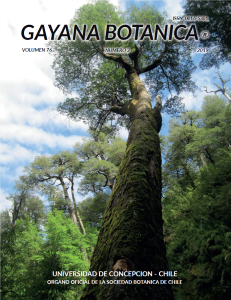 Downloads
Additional Files
How to Cite
(1)
Fuentes-Lillo, E.; Pauchard, A. Invasions in Mountains: How Much Have We Advanced in the Last 10 Years and What Are the Challenges for the Ecosystems of the Andes?. Gayana Bot. 2019, 76, 141-155.
License
Authors who publish with this journal agree to the following terms:
Authors retain copyright and grant the journal right of first publication.
The articles in this journal are published under Creative Commons Attribution-NonCommercial 4.0 International License that allows others to share the work with an acknowledgement of the work's authorship and initial publication in this journal.
Authors are permitted and encouraged to post their work online (e.g., in institutional repositories, on their website or ResearchGate) prior to and during the submission process, as it can lead to productive exchanges, as well as earlier and greater citation of published work (SeeThe Effect of Open Access).