Taxonomic revision of the genus Poa L. (Poaceae: Pooideae: Poeae) in Chile
Keywords:
Flora of Chile, lectotypification, nomenclature, taxonomic revision, synonyms
Abstract
A taxonomic revision of the genus Poa in Chile is given. Forty-two species, 5 subspecies and 5 varieties distributed in 4 subgenera, 15 sections and one informal group "Punapoa" are recognized. Synonyms, bibliographic references, notes on distribution and habitat, distinctive characters, and keys to species and subspecific taxa are provided for each species. The names Poa algida Trin., P. annua L. var. eriolepis E. Desv., P. ariguensis Steud., P. chilensis Trin., P. chrysantha Lindm., P. fuegiana (Hook.f.) Hack. var. involucrata Hack., P. maullinica Phil., and P. yaganica Speg. are lectotypified. A new combination and status is established for P. parviceps Hack. [P. scaberula Hook.f. subsp. parviceps (Hack.) Finot, Giussani & Soreng]. Poa dialystostachya is proposed as a new synonym of the endemic P. paposana.
Downloads
Download data is not yet available.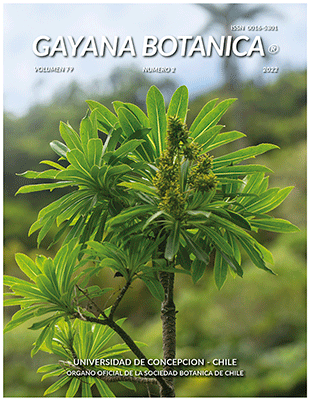 Downloads
How to Cite
(1)
Finot, V. L.; Soreng, R. J.; Giussani, L. M.; Sabena, F. R.; Villalobos, N. Taxonomic Revision of the Genus Poa L. (Poaceae: Pooideae: Poeae) in Chile. Gayana Bot. 2022, 79, 159-253.
Section
ORIGINAL ARTICLES
License
This work is licensed under a Creative Commons Attribution-NonCommercial 4.0 International License.
Authors who publish with this journal agree to the following terms:
Authors retain copyright and grant the journal right of first publication.
The articles in this journal are published under Creative Commons Attribution-NonCommercial 4.0 International License that allows others to share the work with an acknowledgement of the work's authorship and initial publication in this journal.
Authors are permitted and encouraged to post their work online (e.g., in institutional repositories, on their website or ResearchGate) prior to and during the submission process, as it can lead to productive exchanges, as well as earlier and greater citation of published work (SeeThe Effect of Open Access).