Chromindex-UdeC, a simple method for calculating karyotypic asymmetry indices from Excel tables generated bythe MicroMeasure program
Abstract
MicroMeasure es un programa científico de análisis de imágenes, cuya aplicación está destinada a estudios citológicos, citogenéticos y citotaxonómicos. Este programa está diseñado específicamente para la medición lineal de los cromosomas utilizando fundamentalmente el centrómero de cada cromosoma como punto crucial para la medición de los dos brazos de cada uno de ellos. Los datos se calculan automáticamente, dando como resultado una hoja de cálculo Excel. A partir de esta tabla Excel, se pueden hacer una multiplicidad de cálculos, dependiendo de las necesidades e intereses de cada investigador. Chromindex-UdeC permite utilizar tablas Excel múltiples, generadas por el programa MicroMeasure y solo deben ser subidas al servidor para calcular automáticamente los índices de asimetría disponibles(A2, AsK%, CVCL, CVCI,MCA, Syi, %TF). Este programa puede ser usado en español y/o en inglés y no se necesita ninguna experiencia en programación, es gratis, está disponible en una plataforma abierta a todo público y se actualiza automáticamente.
Downloads
Download data is not yet available.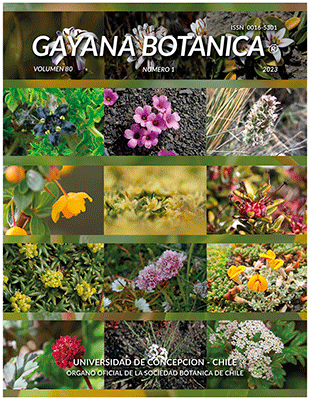 Downloads
How to Cite
(1)
Baeza Perry, C.; Guzmán Chacón, A.; Pinacho-Davidson, P. Chromindex-UdeC, a Simple Method for Calculating Karyotypic Asymmetry Indices from Excel Tables Generated Bythe MicroMeasure Program. Gayana Bot. 2023, 80, 75-80.
Section
SHORT COMMUNICATIONS
License
Copyright (c) 2023 Carlos Baeza Perry, Alvaro Guzmán Chacón, Pedro Pinacho-Davidson
This work is licensed under a Creative Commons Attribution-NonCommercial 4.0 International License.
Authors who publish with this journal agree to the following terms:
Authors retain copyright and grant the journal right of first publication.
The articles in this journal are published under Creative Commons Attribution-NonCommercial 4.0 International License that allows others to share the work with an acknowledgement of the work's authorship and initial publication in this journal.
Authors are permitted and encouraged to post their work online (e.g., in institutional repositories, on their website or ResearchGate) prior to and during the submission process, as it can lead to productive exchanges, as well as earlier and greater citation of published work (SeeThe Effect of Open Access).