Interaction between plants growing together from germination to 2 years: A test of competition and phylogenetic closeness for Northeastern Mexico
Keywords:
phylogeny, seed mass, seedling, shoot/root ratio, Tamaulipan thornscrub
Abstract
Competition and facilitation are important factors affecting seedling survival. These factors probably affect plant distribution and abundance. Interactions between species relate to phylogeny, in that closely related species are likely to compete more for resources and facilitation is expected between more distantly related species. We tested for Tamaulipan thornscrub plants, grown with close and distant relatives if they differed in survival, length and weight of shoots and roots, assuming that closely related species would compete more than distant ones. We also explored whether seed mass was associated with plant size from 1-24 months after germination. We grew plants from Tamaulipan thornscrub, with a sibling or with one individual from other species from 1-24 months. Seedling survival was similar for all species when their seedlings grew alone or under competition, at 1, 6 and 12 months. At 24 months seedling survival of Vachellia farnesiana was lower when grown with Havardia pallens. There was no evidence of stronger competition or facilitation for phylogenetically closer species. Seedling size correlated with seed mass one month after germination but not after 6 months. Maximum and mean adult plant height did not correlate with seed mass or with plant height in our trials. We found no evidence of phylogeny explaining nearest neighbors in competition during germination for Tamaulipan thornscrub.
Downloads
Download data is not yet available.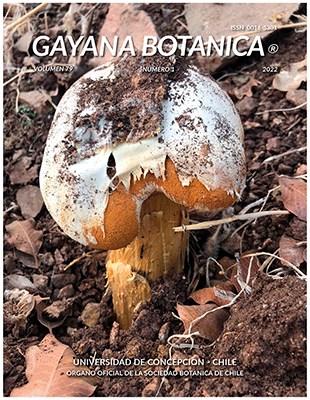 Downloads
How to Cite
(1)
Jurado, E.; Flores, J.; Marroquín, J.; Pando-Moreno, M.; Rodríguez-Trapero, D. A.; González-Rodríguez, H.; Selvera-Mancha, J. A.; López-Carmona, J. Ángel. Interaction Between Plants Growing Together from Germination to 2 Years: A Test of Competition and Phylogenetic Closeness for Northeastern Mexico. Gayana Bot. 2022, 79, 51-62.
Section
ORIGINAL ARTICLES
License
Copyright (c) 2022 Enrique Jurado, Joel Flores, Jonathan Marroquín, Marisela Pando-Moreno, David Alberto Rodríguez-Trapero, Humberto González-Rodríguez, José Alejandro Selvera-Mancha, Juan Ángel López-Carmona
This work is licensed under a Creative Commons Attribution-NonCommercial 4.0 International License.
Authors who publish with this journal agree to the following terms:
Authors retain copyright and grant the journal right of first publication.
The articles in this journal are published under Creative Commons Attribution-NonCommercial 4.0 International License that allows others to share the work with an acknowledgement of the work's authorship and initial publication in this journal.
Authors are permitted and encouraged to post their work online (e.g., in institutional repositories, on their website or ResearchGate) prior to and during the submission process, as it can lead to productive exchanges, as well as earlier and greater citation of published work (SeeThe Effect of Open Access).