Differential effect of manganese on the germination of Triglochin striata (Juncaginaceae) and Cotula coronopifolia (Asteraceae) in Laguna de Carrizal Bajo wetland, Atacama Region, Chile
Abstract
Manganeso es un metal traza cuyos efectos a nivel de semilla no han sido estudiados en profundidad. En el humedal de Carrizal Bajo se han documentado altos niveles de Mn, como aporte combinado de las actividades antrópicas y de la roca madre. En este estudio se evalua experimentalmente el efecto de distintos tratamientos de Mn (0,0; 0,001; 0,1 y 10,0 ppm) sobre la germinación de Triglochin striata y Cotula coronopifolia, dos macrófitas presentes en el humedal. Nuestros resultados mostraron que la germinación de Cotula disminuyó de 60 a 10 % en los tratamientos con Mn, mientras que la germinación de Triglochin se mantuvo en torno al 16 %, sin mostrar diferencias significativas entre los tratamientos. Estos antecedentes sugieren que Mn puede afectar diferencialmente la germinación de las especies del humedal.
Downloads
Download data is not yet available.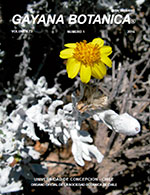 Downloads
How to Cite
(1)
Guerrero-Leiva, N.; Ortiz-Calderón, C.; Castro, S. A. Differential Effect of Manganese on the Germination of Triglochin Striata (Juncaginaceae) and Cotula Coronopifolia (Asteraceae) in Laguna De Carrizal Bajo Wetland, Atacama Region, Chile. Gayana Bot. 2016, 73, 161-165.
Section
SHORT COMMUNICATIONS
License
Authors who publish with this journal agree to the following terms:
Authors retain copyright and grant the journal right of first publication.
The articles in this journal are published under Creative Commons Attribution-NonCommercial 4.0 International License that allows others to share the work with an acknowledgement of the work's authorship and initial publication in this journal.
Authors are permitted and encouraged to post their work online (e.g., in institutional repositories, on their website or ResearchGate) prior to and during the submission process, as it can lead to productive exchanges, as well as earlier and greater citation of published work (SeeThe Effect of Open Access).