Revision of Heliotropium sects. Heliothamnus, Heliotrophytum, Hypsogenia, Plagiomeris and Platygine (Heliotropiaceae) in Chile
Keywords:
Boraginaceae, Boaginales, flora, Heliotropioideae, taxonomy
Abstract
A taxonomic revision of the Chilean species of Heliotropium (Heliotropiaceae) is presented, excluding those of sect. Cochranea that were revised in a previous contribution. These species are Heliotropium amplexicaule (sect. Heliotrophytum), H. corymbosum (sect. Heliothamnus), H. curassavicum (sect. Platygyne), H. geissei (sect. Plagiomeris), H. microstachyum (sect. Hypsogenia), H. paronychioides (sect. Plagiomeris) and H. patagonicum (sect. Platygyne). I analyze in detail the nomenclature, iconography, taxonomy, systematics, distribution and bibliography of each species. Heliotropium corymbosum is newly reported for the flora of Chile and the new combination Heliotropium corymbosum var. grisellum is herewith proposed. This taxon is illustrated for the first time. I discuss the presence of two species of Heliotropiaceae erroneously reported for the Chilean flora: Heliotropium angiospermum (sect. Schobera) and Euploca procumbens. I conclude that the family Heliotropiaceae is represented in Chile only by the genus Heliotropium with 24 species, including 17 species previously treated under sect. Cochranea. I provide a key for the determination of all Chilean species of Heliotropium.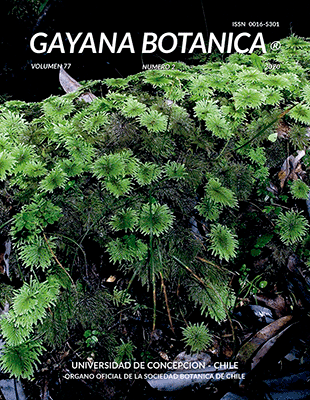 Downloads
Section
ORIGINAL ARTICLES
License
Copyright (c) 2020 Federico Luebert
This work is licensed under a Creative Commons Attribution-NonCommercial 4.0 International License.
Authors who publish with this journal agree to the following terms:
Authors retain copyright and grant the journal right of first publication.
The articles in this journal are published under Creative Commons Attribution-NonCommercial 4.0 International License that allows others to share the work with an acknowledgement of the work's authorship and initial publication in this journal.
Authors are permitted and encouraged to post their work online (e.g., in institutional repositories, on their website or ResearchGate) prior to and during the submission process, as it can lead to productive exchanges, as well as earlier and greater citation of published work (SeeThe Effect of Open Access).