Is autotoxicity responsible for inhibition growth of new conspecific seedlings under the canopy of the invasive Acacia dealbata Link?
Keywords:
allelopathy, allelochemicals, biological invasions, intraspecific competition, morphological changes, non- native range
Abstract
Autotoxicity is a particular form of allelopathy and is suspected to be responsible for regulating intraspecific competition under the Acacia dealbata Link (Fabaceae) canopy. Was established a bioassay with controlled conditions following the natural patterns of plant material accumulation under the A. dealbata canopy to determine the effects of chemical compounds released by leaves, bark, flowers and pods of the invasive species on germination and early growth of conspecific seedlings. Morphological changes caused by A. dealbata plant parts in roots of A. dealbata seedlings grown in natural and controlled conditions were evaluated with scanning electron microscopy. The composition and behavior of the phytotoxicity of litter under the A. dealbata canopy throughout its phenological cycle were studied. The main chemical compounds in the soil under the canopy were identified. Most of the tested plant parts inhibited the germination and early seedling growth, prevented the root hair formation, destroyed the rhizodermis and altered the parenchyma tissue of radicles. The pods caused the greatest autotoxicity in seedlings from both study conditions and dominated the plant material accumulated under the canopy for almost all of the phenological cycle. Soil analysis by GC-MS revealed the abundance of fatty acids and the presence of steroids. These results suggest that A. dealbata can control the growth of new conspecific seedlings under its own canopy, and improves the interspecific competitive performance of its adult plants in its non-native range.
Downloads
Download data is not yet available.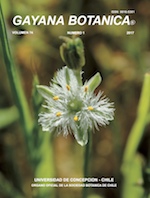 Downloads
How to Cite
(1)
Narciso; Lubia M.; José; Luis. Is Autotoxicity Responsible for Inhibition Growth of New Conspecific Seedlings under the Canopy of the Invasive Acacia Dealbata Link?. Gayana Bot. 2017, 74, 1-14.
Section
ORIGINAL ARTICLES
License
Authors who publish with this journal agree to the following terms:
Authors retain copyright and grant the journal right of first publication.
The articles in this journal are published under Creative Commons Attribution-NonCommercial 4.0 International License that allows others to share the work with an acknowledgement of the work's authorship and initial publication in this journal.
Authors are permitted and encouraged to post their work online (e.g., in institutional repositories, on their website or ResearchGate) prior to and during the submission process, as it can lead to productive exchanges, as well as earlier and greater citation of published work (SeeThe Effect of Open Access).