Reproductives aspects, architecture and phenomorphology of Maytenus boaria Molina (Celastraceae) in central Chile
Keywords:
autonomous autogamy, dioecious, Mayten tree, phenology cycle, phenophases
Abstract
Maytenus boaria Molina (Celastraceae) is an evergreen native tree which is widely distributed in Chile. It has a high economic potential due to its medicinal value, among others. Despite this, biological information about the species is scarce and often confusing. The objective of the study was to broaden the knowledge about reproductive aspects and the sexual system of M. boaria, along with its modular architecture and pheno-morphology. The study was conducted from August through December of 2016, with adults plants (n=17) selected in urban areas of the Región Metropolitana. A pollination test was performed and the sex of the flowers of each selected tree was identified. In addition, a pheno-morphological diagram of the species was made through the modular interpretation of its architecture and the identification of its phenophases. Results showed that M. boaria is a dioecious and andromonoecious species; it has a low autonomous autogamy and is non-apomictic species that needs pollination vectors for seed production. It has four architectural modules in its crown: dolichoblast of apical bud, dolichoblast of axillary bud, inflorescence and reproductive temporary brachyblasts which are distributed in two architectonic units. The floral biology and pheno-morphology of this species indicate that it would be in an evolutionary process regarding the functionality of hermaphroditic flowers, which has been proposed as an intermediate step from hermaphroditism to dioecy. Further knowledge of these topics will allow for a better understanding of the autoecology of the species in order to have an appropriate and productive management of it.
Downloads
Download data is not yet available.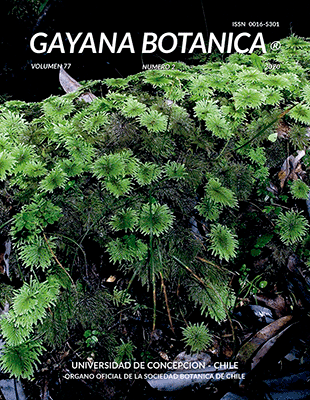 Downloads
How to Cite
(1)
Godoy, M.; de la Fuente, L. M.; Gómez, M.; Ginocchio, R. Reproductives Aspects, Architecture and Phenomorphology of Maytenus Boaria Molina (Celastraceae) in Central Chile. Gayana Bot. 2020, 77, 152-167.
Section
ORIGINAL ARTICLES
License
Copyright (c) 2020 Magdalena Godoy, Luz María de la Fuente, Miguel Gómez, Rosanna Ginocchio
This work is licensed under a Creative Commons Attribution-NonCommercial 4.0 International License.
Authors who publish with this journal agree to the following terms:
Authors retain copyright and grant the journal right of first publication.
The articles in this journal are published under Creative Commons Attribution-NonCommercial 4.0 International License that allows others to share the work with an acknowledgement of the work's authorship and initial publication in this journal.
Authors are permitted and encouraged to post their work online (e.g., in institutional repositories, on their website or ResearchGate) prior to and during the submission process, as it can lead to productive exchanges, as well as earlier and greater citation of published work (SeeThe Effect of Open Access).